ISKRA NFIB are Type B RCCB, for which tripping is ensured as for Type A and in addition for smooth D.C residual currents, residual D.C currents which may result from rectifying circuits and high frequency a.c. residual currents
Function of detection, evaluation and interruption for Type A residual current do not depend on the line voltage for which evaluation of smooth D.C residual currents supply voltage greater than 50 v is required which can be applied to any two poles only.
Relevant for applications with frequency inverters, medical devices, UPS, mobile installations and elevators.
For type B tripping conditions for frequencies up to 1 kHz are defined
Versions: -NFIBK: short-time delay tripping
Surge current withstand capability with current waveform 8/20µs is 3kA.
When designing and installing electrical installations, electrical loads that can generate D.C residual currents in the event of fault, must be assigned a separate electrical circuit.
Optional operating position
Degree of protection IP20; after installation in a distribution box IP40
Assembly to a 35 mm wide mounting rail inaccordance with EN60715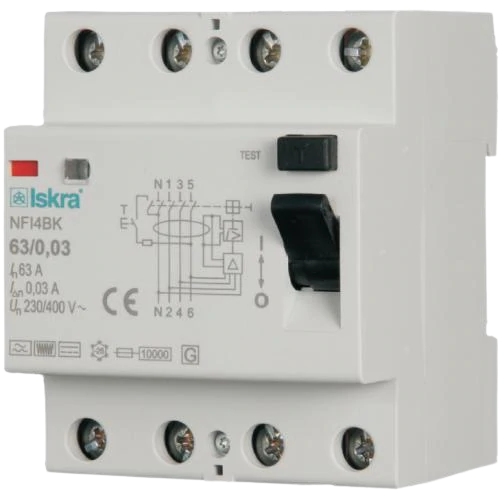 Available from 20A – 80A in 30mA, 100mA, 300mA and 500mA.
Intended for Protection! Protection! Protection!